MACARGO OBTAINS THE NATIONAL LOGISTICS AWARD IN MEXICO 2019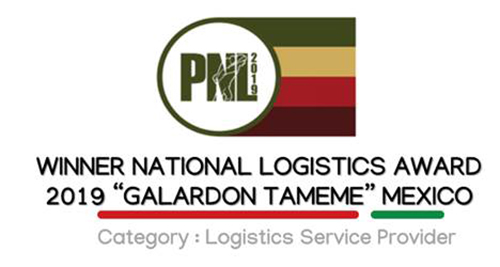 MACARGO obtains the National Logistics Award in Mexico 2019 for its efficient performance in the logistics of the Villanueva Solar Park.
On November 7, 2019, MACARGO Mexico Air Cargo Systems, was honored with the National Logistics Award 2019, in the 3PL / 4PL Logistics Services Provider Category. The award is presented by the Ministry of Economy and the Ministry of Communications and Transportation of Mexico to recognize outstanding logistic services companies that demonstrate best practices in the supply chain and promote the development of Mexican logistics.
The major international project that secured this award was the installation of the Villanueva Solar Park, which has 2,000,300 solar panels and generates clean renewable energy for the people of Mexico. The second largest photovoltaic installation in the world and the largest in Latin America, the installation required Dimerco and its strategic partner to collaborate on logistics and material delivery from several ports in China to Coahuila in Mexico.
The project, which involved shipping and delivering 26,000 steel brackets, 1,624 miles of galvanized beams in more than 2,000 40-foot containers, demonstrated the capabilities of MACARGO and its strategic partner, as leading partners in the supply chain, delivering integral door-to-door solutions with seamless logistics. MACARGO and its strategic partner generated significant savings for the customer on each container handled, while also being mindful of environmental impact and planning the logistics to reduce CO2 emissions during transportation to final destination.
The project required extensive knowledge, detailed logistics and door-to-door transport capacity and broad reach from one continent to another, as well as experience in physical inspections, coordination of logistics processes and understanding of compliance in import and export customs offices with green logistics.
This important project enabled MACARGO and its strategic partner to prove capability and logistical knowledge of both China and Mexico. Savings to the customer represented hundreds of thousands of US dollars; we managed this by choosing the best port of destination and the correct mode of transport for last mile delivery between rail and truck. We even had to build a safe road with our local carrier and authorities to haul containers to the project site. Ontime delivery performance was and impressive 96.8% with minimum demurrage cost of 1.2%
MACARGO and its strategic partner faced the challenges presented by international trade presents, but kept focus on flexibility and customer service, delivering exceptional value to the customer.
MACARGO LOGISTICS COVERAGE WORLDWIDE